Private Residence, Harrisonburg, VA
This residential landscape design and installation located in Harrisonburg, VA was unique in its scope. Located in a semi-private, woodlands area the home itself sits at the top of a rather steep slope, commanding a view of the beautiful mountains and valley surrounding it. The plantings and design needed to blend into the home's surroundings while still maintaining a relaxed formality that suited the architecture of the home and the client's own preference for order and clean lines.
Using more mature, substantial plant materials at the time of installation, planted in large swaths created a feeling of permanence that matched the scale of the home itself. Layering understory shrubs below the canopy of multi-stemmed Riverbirch trees created a sensation of a forest setting, while groundcovers and perennials below helped stabilize the bank and prevent run-off.
The final result is a landscape that changes with each season, providing a continual array of color, texture and beauty mimicking the setting around it.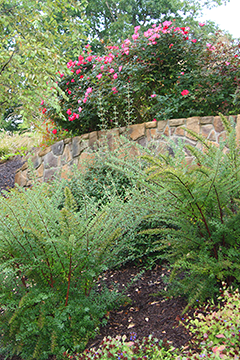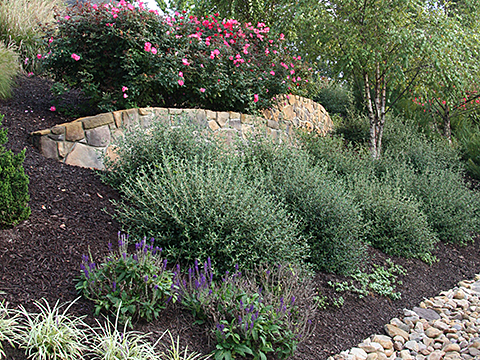 ---
Vineyard and Winery, Bridgewater, VA
The challenge of this commercial project was to seamlessly tie the surrounding vineyards with the newly constructed tasting room, creating a welcoming entrance and relaxing seating area. A large patio area is shaded by a custom built Eastern Red Cedar arbor, planted with, of course, grapes creating a wonderful, shady canopy below.
The walkways are generous in size, allowing couples to stroll together to view the gorgeous surroundings and take in the charm of the vineyard. The plantings are relaxed and unfussy mimicking the atmosphere of the winery itself and further enhancing the enjoyment of the experience.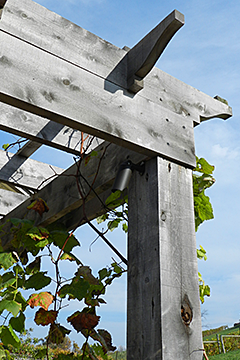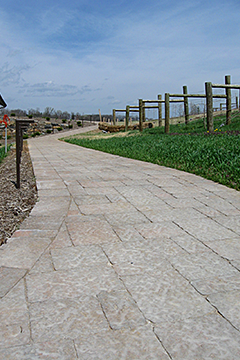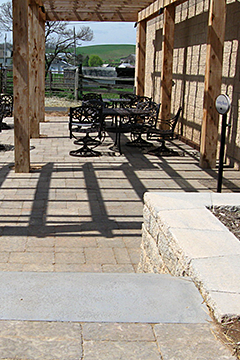 ---
Mixed Use, City of Harrisonburg, VA
As the company selected to install the first and only rooftop garden in Harrisonburg, VA this project offered many unique challenges and possibilities. The construction and installation of this very elaborate design required us to coordinate over six different contractors, each with a very specific function to perform.
The three month-long process resulted in a contemporary outdoor space that is both welcoming and striking in its appearance . Filled with a plant palette of graceful ornamental grasses and native plantings, it changes with each season offering a variety of structures, colors and textures.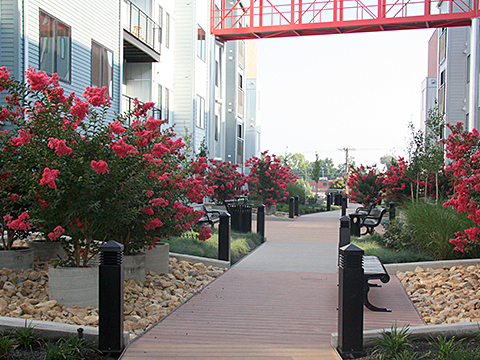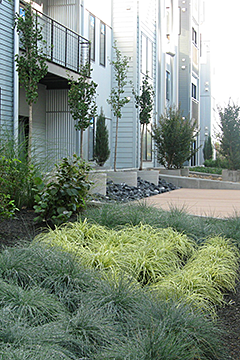 ---
Private Residence, Bridgewater, VA
With a beautiful property adjacent the North River in Bridgewater, VA the homeowners wanted a pathway and seating area that would allow them to enjoy the views and the sounds of the river. Designed to blend with the surroundings, the Belgard London Cobble pavers in the colorway Bella offer a soft, muted, natural stone look and feel that suited the area perfectly.
The multi-level circle patio with the seating walls provides a quiet destination to sit and relax and enjoy the scenery. Once the addition of a firepit is added the area will truly become a three-season outdoor room, ready for entertaining.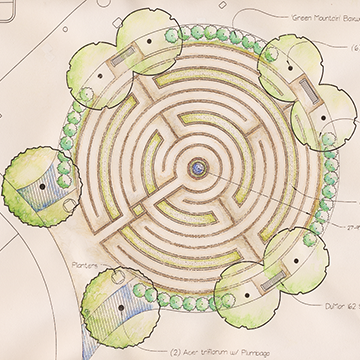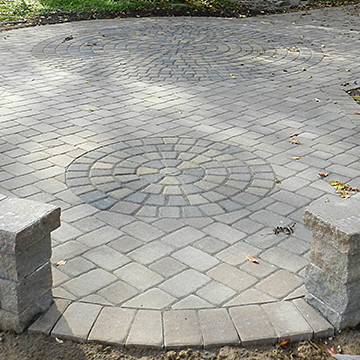 ---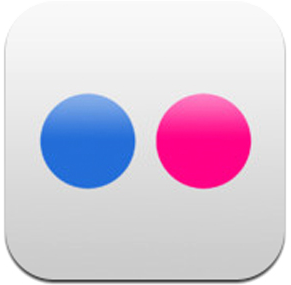 Check out our Flickr site for more images from our projects.